Bush Theatre (UK) / Nassim Soleimanpour (Iran/Germany)
NASSIM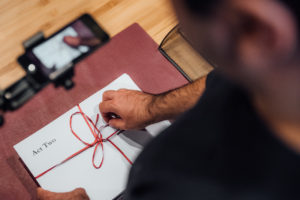 An audacious theatrical experiment that explores the power of language to unite us in unknown, uncertain times. In Nassim, there is no preparation and there are no rehearsals: an actor reads a script for the first time. This is the latest work by Nassim Soleimanpour, whose globally acclaimed White Rabbit Red Rabbit has been translated into 15 different languages and performed more than 1,000 times.
Iranian playwright Nassim Soleimanpour returns with an theatrical event in which you will transcend borders and languages. Illuminating, touching, and playful, Soleimanpour's latest offering will feature a different actor on stage with the playwright himself. It's presented by the Bush Theatre, the London-based hub developing new plays and new writers from a wide range of backgrounds. Directed by Omar Elerian.
WINNER of the Scotsman Fringe First Award at Edinburgh Fringe 2017.
Ein kühnes theatralisches Experiment, das die Kraft der Sprache erforscht, um uns in unbekannten, unsicheren Zeiten zu vereinen. Für Nassim gibt es keine Vorbereitung und es gibt keine Proben – stattdessen liest ein Schauspieler das Skript zum ersten Mal. Dies ist das neueste Werk von Nassim Soleimanpour, dessen weltweit gefeiertes Stück White Rabbit Red Rabbit in 15 verschiedene Sprachen übersetzt und mehr als 1000 Mal aufgeführt wurde.
Der iranische Dramatiker Nassim Soleimanpour kehrt mit einem gewagten Stück Theater zurück, das Landesgrenzen und Sprachbarrieren überschreitet. Aufschlussreich, berührend und verspielt ist das neue Stück Soleimanpours, in dem der Dramatiker selbst jeden Abend einem neuen Menschen auf der Bühne begegnet. Nassim wird vom Bush Theatre präsentiert, dem in London ansässigen Zentrum, bekannt für seine Stückentwicklung mit neuen Autoren aus den unterschiedlichsten Bereichen. Regie führte Omar Elerian.
Donnerstag, 3. Mai um 20 Uhr
Special Guest: Christian Holtzhauer
Freitag, 4. Mai um 20 Uhr
Special Guest: Daniel Bye
Samstag, 5. Mai um 20 Uhr
Special Guest: Fiona Metscher
Spielort: Eintanzhaus